When you do the fancy plywood inspection ,should have a clear grading rules and checklist ,collected some good resource for you .
http://www.oakwoodveneer.com/
If regular plywood ,normally whole pieces of face veneer ,we call it Rotary cut ….
Veneer Usage Ideas
Wood Veneer for Speakers and Musical Instruments
Wood Veneer for Printed and Printable Products
Wood Veneer for Custom Cabinetry and Refacing
Wood Veneer for Consumer Product Manufacturing
Wood Veneer for Commercial and Residential Interior Design
Wood Veneer for Automotive, Aircraft, and Marine Interiors
Wood Veneer for Architectural Millwork, Windows, Paneling, Etc.
Wood Veneer for Antique and Retro Furniture Restoration
Here are some of the most common veneer matching approaches:
Book Matching

Alternating pieces of veneer are flipped over so they face each other as do the pages within a book. This creates a pleasing, symmetrical pattern.

Slip Matching

Veneer slices are joined in sequence without flipping the pattern. If the grain is straight, the joints will not be obvious.

Pleasing Match

Veneer is matched by color but not by grain pattern.

Random Match

Random matching is just what it sounds like. Usually done with lower grades of veneer, the leaves may be of varying width, colors and grains.
The size of the log, the species of wood, the grain pattern desired and other factors determine which type of cut will be made to create veneer. Below are some of the mosts common methods of cutting logs.
Quarter Slicing

The slicing is made perpendictular to the annual growth rings of the tree. This creates a straight grain appearance.

Plain Slicing

By slicing parallel to the center of the log, a raised "cathedral effect" is formed by the innermost growth rings. This is also known as flat cut.

Half-Round Slicing

Sliced on an arc parallel to the center of the log, this cut achieves a flat-cut veneer appearance.

Rift Cut

This straight grain cut is derived by slicing red and white oak at a slight angle to minimize the irregularities in the wood.
Rotary Cut
Rotary cutting is a method used to peel a log into thin sheets of wood as if unrolled from a spool, like paper towels. Rotary cut veneer has a variegated grain appearance, and can vary tremendously, although it is the preferred method to obtain large sections of wood to manufacture whole piece faces in standard and oversize structural marine grade panels. It is usually the least expensive veneer style. Rotary cutting is the only way to achieve a 48″ wide whole-piece face.
Quarter Cut
Quarter slicing (also known as Quarter Sawn, Quarter Cut or Quartered) is a cutting method that involves dividing the log into quarters and slicing the quarter log on a radial direction approximatelyperpendicular to the growth rings to produce a straight grain appearance with the flake from the wood rays typically exaggerated on the surface. It is commonly used with red and white oaks because of the desired flake effect, but may be used on any species. Avoiding the flake effect and obtaining tighter grain
appearance calls for a rift cut.

Rift Cut
Rift cut veneer is commonly produced in the various species of Oak. Oak has medullary ray cells which radiate from the center of the log like the curved spokes of a wheel. The rift or comb grain effect is obtained by cutting at an angle of about 15% off of the quartered position to avoid the flake figure of the medullary rays
Plain Sliced
Plain slicing (also known as Plain Sawn or Flat Cut) a log produces thin veneers that are no wider than the log and have a pronounced repeating grain pattern. These pieces must be combined to make a plywood face by "matching" the pieces as desired by the customer.
Matching
Matching is a term typically used in reference to the relationship between one veneer strip or "component" and the adjacent component in a face consisting of more than one component. The individual components are spliced together employing one of a number of matching techniques. The most common is book matching, which requires reversing every other component as if you were opening the pages of a book. The result is a mirror image at the splice line.
Slip Matching
Slip matching involves splicing each veneer to the next without turning over any component.
This allows the face to have the tight side of the veneer out on each component, which helps avoid the "barber pole" effect of book matching.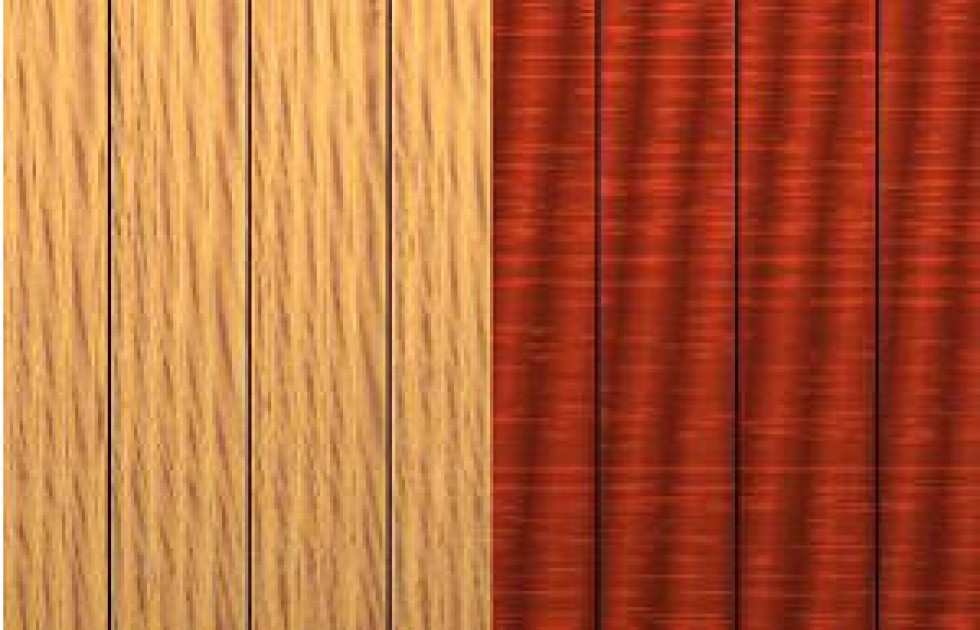 The term "matching" may also be used in reference to the relationship of all components within a panel face. Running matching means the outer components will not be the same width as the inner components due to jointing the log so as to produce the greatest yield. Running match will be provided unless otherwise specified. Balance matching requires all components to be the same width and Center matching requires that there be an even number of same width components. Because of final panel trimming, the outer components of both balance and center matched faces will be slightly narrower than the other components. Center Balanced is typically specified for doors, allowing best positioning/yield.
The term "matching" may also apply to the relationship of one panel to the next. Sequence matching means the panels are produced from faces that were kept in order and numbered during the manufacturing process.
Tight Side and Loose Side
Conventional means of peeling or slicing a log results in the development of minute fractures known as lathe checks on the side of the veneer adjacent to the knife and closer to the center of the log as the veneer was cut. The side of the veneer having the lathe checks is the loose side, while the opposite side is the tight side. The loose side will tend to absorb more finishing material than the tight side, which sometimes results in a dark/light appearance called the "barber pole" effect.
Aspen
Aspen
Bamboo – Dark
Bamboo – Dark
Bamboo – Lite
Bamboo – Lite
Basswood
Basswood
Beech Cathedral
Beech Cathedral
Birch
Birch
Birds Eye Maple
Birds Eye Maple
Bubinga
Bubinga
Cherry Cathedral
Cherry Cathedral
Cork Natural
Cork Natural
Cork Reconstituted
Cork Reconstituted
Cork Ribbon
Cork Ribbon
Curly Maple
Curly Maple
Douglas Fir
Douglas Fir
Hard Maple Cathedral
Hard Maple Cathedral
Hard Maple Straight
Hard Maple Straight
Hawaiian Koa
Hawaiian Koa
Hickory Cathedral
Hickory Cathedral
Eastern Red Cedar
Eastern Red Cedar
Mahogany
Mahogany
Maple
Maple
Red Oak Straight
Red Oak Straight
Rosewood
Rosewood
Soft Maple
Soft Maple
Southern Pine
Southern Pine
Teak
Teak
Walnut Cathedral
Walnut Cathedral
Walnut Straight
Walnut Straight
Wenge
Wenge
White Oak
White Oak
White Pine
White Pine
Yellow Poplar
Yellow Poplar
Zebra
Zebra
15 Common Veneer Mistakes
 you may already know some problems and pitfalls of purchasing flexible wood veneer. But chances are, there are still some mistakes you or your clients may not be aware of. These might cost you time, money and aggravation.
We've put together a comprehensive list of common and not-so-common mistakes from the design phase through the purchase of the actual veneer.
Our goal is to arm you with the knowledge you need to make the right veneer buying decisions. By being better prepared, you will have piece of mind while saving time and money.

We stock an unsurpassed variety of wood veneers from around the world. In addition to our wood species and grades, we have a complete range of sheet sizes and backers to meet the need of all woodworkers.
From Afromosia to Zebrawood, and from Oak to Cherry, most of our exotic, burl and classic woods are in stock and ready to ship to you immediately.
Customer service is our top priority whether you order online, in person, or by phone. Veneer experts are available to help with veneer selection as well as installation hints and tips. We value your time and pledge your orders and questions will be professionally handled.
Mistake 1
Wood veneer samples are taken from previous inventory. While they are of the same species and quality, they won't necessarily match the current inventory.
Mistake 2
Veneer can be different colors within the same wood species. Some species are more consistent than others, but most will have some color variation. The only way to guarantee good color consistency is to buy all veneer from the same log.
Mistake 3
It's important to know veneer industry terminology when ordering. This will help eliminate mistakes and costly time delays. You are more likely to get the veneer you want if you understand the look of standard cuts, the figure "types" in many exotic woods, and also the matching patterns such as "book," "slip" and "butt."
Veneer terminology is available in our wood veneer glossary.
Mistake 4
If a particular job is large and requires a lot of matching wood veneer, it is smart to choose a wood species that produces large logs. This enables you to get long sequence matched veneer from one single log to ensure color consistency and grain match.
Smaller jobs aren't as critical. A good rule of thumb is "large jobs equal large species and longer sequences while small jobs equal smaller species and shorter sequences."
Mistake 5
Even though you may be able to complete your project with two 4'x8′ and one 4'x10′ sheet, it may be in your best interest to get all 4'x10′ veneer to ensure all veneer is from the same log. Remember, a few extra dollars spent up front can reward you with higher quality production.
Mistake 6
Every project has opportunities to save a little money on lower grade veneers. Areas such as shelves, backs, insides and undersides of cabinets and furniture don't always require premium wood veneer. Spend money for premium veneers only on the highly visible areas.
Mistake 7
When planning for your project, allow extra wood veneer for redoing mistakes, off-cuts and for pleasing visual appearance. It's almost impossible to come back two days, a week or a month from now and get more veneer to match what you already have.
When in doubt, buy the extra sheet.
You can always return it to Oakwood Veneer!
Mistake 8
Wrong! The correct backing material is determined by what gluing method you employ, the substrate you use and the stability and durability required for your application. When in doubt, ask for advice from qualified veneer professionals.
Mistake 9
Use a hard setting glue such as PVA or urea formaldehyde whenever possible. Contact cement is a viable option but requires wood veneer with the proper backer. Using contact cement on 10 mil paperback veneer is not recommended.
Mistake 10
When ordering wood veneer, be specific about quality, cut, color, sequence matching and so on. The better you describe what you need, the greater chance you'll be satisfied with the veneer you receive. This will help you avoid costly delays and dissatisfaction.
Mistake 11
Your local veneer source can't match the quality, species availability or knowledge of a company which specializes in wood veneer.
Oakwood Veneer Company provides expert advice on veneer, veneer selection, proper application, adhesive choices and techniques as well as various finishing methods. By utilizing the total resources within our company, you will save time and avoid mistakes.
Mistake 12
It is critical to veneer both sides of a panel to ensure flatness and stability. This should be done with the same wood veneer, if both sides are visible, or a cheaper "backer sheet," if one side is not seen. Any panel that isn't properly balanced will almost certainly become warped and unusable.
Mistake 13
If you are a serious woodworker, you owe it to yourself to learn more about working with wood veneer. If you are an architect, designer or specifier of wood veneer, you owe it to your customers.
As the trusted expert, one of your roles is to educate those you serve about veneer possibilities and limitations. They need realistic expectations about veneer. Involve them in the selection process, explain the different qualities each wood species possesses and don't promise results that can't be achieved
Mistake 14
If you're matching existing wood veneer, the only sure way to get a good match is by providing a sample from the existing piece. Oakwood Veneer Company can match veneer grain and color to a door, drawer front or hard-wood component. Digital or color photographs will get you close matches if the color is accurately represented.
Mistake 15
Working with wood veneer is not always as simple as it seems. Questions may arise at any time. Customer service is the life blood of Oakwood Veneer Company. Our veneer professionals are available to give you accurate answers to your questions anytime you need them. Just call us. When it comes to veneer, there are no stupid questions!