Sources and species:
From Europe: Pine, Oak, Cherry, Ash, Spruce, Beech, etc.
From Africa: Afizelia, Doussie, Dibetou, Izombe, Iroko, Mahogany, Wengue, Sapele, etc.
From North America: Red Alder, White Oak, Red Oak, Cherry, Ash, Hard maple, Chestnut, etc
From South America: Andiroba, Cedar, Brazilian Cherry, Ipe, Jatobá, Sucupira, Tatajuba, etc.
SAWN TIMBER
RIMAA Sawn Timber specializes in a large selection of quality lumber products, from European brand name suppliers.
We offer cut-to-size lumber for packaging, construction, pallets, carpentry, furniture, etc. It can be selected in rough or kiln dried, with a smooth option. We also offer woodchips, sawdust and bark for ornamental gardens
It all begins with logs harvested from sustainable forests. The logs are then sawn into lumber, dried and graded. Our suppliers are skilled in ensuring the best possible quality with minimum waste. We strive for the highest standard of excellence.
Accordingly, our suppliers are dedicated to complying with the two certification systems which are recognized worldwide: FSC (Forest Stewardship Council) and PEFC (Programme for the Endorsement of Forest Certification Schemes).
Lumber is a general term which includes boards, dimension lumber, and timber. The product is manufactured by sawing logs into rough size lumber or cants (square timbers) which are edged, resawn to final dimension and cut to length.
This section deals with lumber products used for structural framing. In the context of North American construction materials, it usually refers to wood originating from softwood species of trees. In the smaller sizes it is known as "dimension lumber" and in the larger sizes as "timbers".
Canadian lumber is economical, easy to procure, easy to adjust in the field, and has a dependability based on North American applied grading rules.
Visually Graded Dimension Lumber
Lumber has traditionally been graded by visual inspection. The grade of a given piece of lumber is based on visual observation of such characteristics as slope of grain and location of knots.
Machine Graded Dimension Lumber
A second grading system, using machines to sort the lumber into grades, has been in use for over 40 years. One of these lumber products, machine-stress rated lumber, has been used for many years in highly demanding engineered applications.
Finger-Joined Lumber
Finger-joined products are manufactured by taking shorter pieces of quality kiln-dried lumber, machining a "finger" profile in each end of the short-length pieces, adding an appropriate structural adhesive, and squeezing the pieces together to make a longer piece of lumber.
Decking
The general term "decking" is used to describe both tongue and groove lumber laid flat (plank decking), and lumber laid on edge (laminated decking).
Timber
The term "timber" describes lumber which is 140mm (5-1/2″) or more in its smallest dimension.
Buying Cabinet-Quality Lumber
The wood used for furniture and other fine projects differs in many ways from lumberyard 2x4s.
The first thing to realize about cabinet-quality lumber is that the rules you probably know about ordering dimension lumber (the type you use for carpentry work) don't apply. Sizing, grading, ordering — they're all different. Also keep in mind that except for a few white pines, redwood, and cedar, most of the time you'll be working with hardwoods.
Understanding Moisture Content All cabinet-grade lumber begins as a "green" board that's been mill-sawed from a freshly felled tree. The moisture content of a green board will be 28 percent or greater, making it unsuitable for woodworking because all wood shrinks, warps, and splits as it dries.
Air-drying reduces the moisture content naturally — workers stack the slabs in such a way that air circulates between the separated layers of boards. Air-drying lowers the moisture level to between 12 and 17 percent. (This is acceptable for outdoor construction, but don't make any interior projects using air-dried material.)
Kiln-drying takes over where air-drying leaves off. Large oven-like kilns with carefully controlled temperatures reduce the moisture content to between 6 and 9 percent, the ideal range for interior projects.
With few exceptions, retail hardwood dealers sell only kiln-dried lumber. It's stored and sold indoors under a roof where the elements won't affect it.
When you purchase kiln-dried lumber, store it indoors lying flat on dry sticks of scrap or hardboard. Never lay it directly on concrete because it will absorb excess moisture.
How Hardwood Lumber Is Sized Unlike dimension lumber, which is milled to industry-established nominal thicknesses, widths, and lengths, most cabinet-quality stock comes in random widths and lengths to keep waste to an absolute minimum. In addition, because all furniture and other woodworking projects have different dimensions, there's no need for dimensioned stock.
Thickness, though, has been standardized, and is expressed in different ways, such as 4/4 (1″), 5/4 (1 1/4″), 6/4 (1 1/2″), and so on. Don't be confused by all this; just remember that the quarter designation and the nominal thickness are the same animal.
When you order cabinet-quality lumber, you'll receive a board as long as or longer than and as wide as or wider than the item ordered. The thickness (if surfaced) will be close to that listed in the chart. When you purchase hardwood lumber, you buy it by the board foot. Even if the dealer has the boards already priced, he arrived at those prices by first figuring the number of board feet each contained.
A board foot, simply, equals 144 cubic inches of wood. Think of it as a piece 1 inch thick and 12 inches square. Because board footage always is calculated in quarters of an inch thickness, starting at no less than 1 inch (even if you order less than 1 inch, you'll pay for the 1-inch thickness), a 5/4 board 6 inches wide and 72 inches long would be figured like this: 1.25 (thickness) x 6 (width) x 72 (length) = 540. Divide 540 by 144 to determine the number of board feet in the stock. If the board length is stated in feet rather than inches, use the same method but divide your total by 12 instead of 144.
How Cabinet-Quality Lumber Is Graded Unlike dimension lumber, which manufacturers grade according to its use in construction as full width and length members, hardwood is graded according to the expected number of clear face cuts a board will yield. And, because most hardwood is expected to be made into furniture, these cuts will be from 2 to 7 feet long. For more information on the hardwood grading system, which was developed by the National Hardwood Lumber Association, see the chart below. This same chart also discusses the grading system for white pine, which was formulated by the Western Wood Products Association. In cabinet lumber there are great differences in quality, just as there are in construction lumber, so use the chart as a guide.
Remember, too, that in building a large project, such as a table or desk top, you'll generally need the higher grades of lumber because they have fewer defects and are available in greater widths and lengths than lower-grade boards of the same species. Many retail hardwood dealers carry only the highest grades possible to avoid customer complaints and discount requests.
Estimating Your Needs Before you purchase any lumber for a project, draw or refer to a published cutting diagram, and figure the board footage needed. And, if at all possible, buy from a dealer who will allow you to hand-select your boards.
Hand-selecting gives you two distinct advantages. First, you can choose the grain, color, and texture you'd like to have. Second, you'll be able to select your lumber in sizes that accommodate your cutting list and thus reduce waste. If you cannot choose your own lumber, allow about 20 percent for waste, and add it to your needed board footage.
Where to Buy Cabinet-Quality Lumber In addition to the cabinet-quality lumber available from lumberyards, home centers, and retail specialty stores, you have the option of mail-order buying. Though you'll be able to order pieces down to 1/4″ in thickness, lengths normally wil be limited to about 6′.
ONe of my friends who is working for one for one of the biggest african company ,they are epxorting the lumber and veneer to the whold world.I just helpped him to list some of the items they are exporting and selling .If you are interested in please contact with us ,we will forward your inquiry to them .
One of my friends who has his own furniture factory already started to buy from this company ,quality are good .
Lumber
They produce a variety of species and various grades and sizes,all  kiln dried most of our timber and have a kiln capacity of 800 M3. They take pride in their quality and range of species and they are one of the biggest producers of Khaya Ivorensis – the real African Mahogany.
◦African Mahogany (Khaya Ivorensis)
◦Sapele Edinam (Tiama)
◦Emire (Framire)
◦Danta
◦Niagon
◦Iroco
◦Macore
◦Bosse
◦Guarea
◦Dahoma (Dabema)
◦Movingue
Types of Lumber: Softwood and Hardwood
There are two types of lumber: softwoods and hardwoods. Softwood lumber comes from conifer trees like pine, fir, spruce, and cedar. These woods get their classification for a reason; they can be easily dented with just your fingernail. Softwood lumber also absorbs and loses moisture much easier than hardwoods, so extra care must be taken to maintain the wood's stability over a lifetime. Pressure treating softwood is one way to maintain its soundness when exposed to the elements. More on that later.
Softwood lumber is cheaper because conifer trees grow faster than hardwoods. Consequently, softwood lumber is primarily used in construction, like in framing a house or building a deck. If you're going to do a home DIY project, you're likely going to use softwood lumber. You can find it aplenty at your local big box home improvement store.
Hardwood lumber comes from deciduous trees, which have broad leaves that fall off in the cold months. The most common trees you'll see hardwood lumber come from are oak, maple, walnut, hickory, and mahogany. As you can gather from the name, most hardwoods are harder than softwoods (with the exception of balsa wood), and they aren't as easily dented.
Hardwood trees take a much longer time to grow to maturity, so the lumber they're turned into is much more expensive than the softwood variety. Consequently, hardwood lumber is typically used in fine woodworking, furniture construction, cabinetry, and flooring. If you want to get into woodworking, you'll primarily be using hardwoods. Big box hardware stores don't stock much of it though, so you'll often have to visit a specialty woodworking store or a lumberyard to purchase it.
With the basic distinction between softwood and hardwood lumber out of the way, let's get into the nitty gritty of each type.
Softwood Lumber
Softwood Lumber Classifications and Grades
Because every tree is different, individual pieces of lumber will show a wide range of quality in strength. To ensure that the right kind of lumber is used for the right job, the U.S. Department of Commerce established the American Softwood Lumber Standard.
There are three broad classifications of softwood lumber: Yard, Structural, and Shop and Factory. Let's take a look at each of them in detail.
Yard Lumber
Lumber intended for ordinary construction and building purposes. Yard lumber is usually graded visually, meaning that an inspector looks at the lumber's appearance to give it a grade. Yard lumber is broken down into two further categories: common and select.
Common Yard Lumber. Common lumber is suitable for construction and utility purposes, and is graded using a number classification:
No. 1 Common. Highest quality of common lumber. No. 1 Common lumber will have a few small, tight knots.
No. 2 Common. Has larger knots than found in No. 1 Common. No. 2 is often used for paneling and shelving and is suitable for general woodworking projects.
No. 3 Common. Has more and bigger knots than No. 2. The wood is typically damaged and blemished. Well-suited for fences, boxes, and crates.
Select Yard Lumber. Select yard lumber looks much nicer than common lumber because it has no or very few knots. Because of the fine appearance of select yard lumber, it is intended for natural and painted finishes.
Select yard lumber is graded using a letter classification:
C Select. Almost completely clear of any defects and is widely used in interior trims and cabinets.
D Select. Has a fine appearance, but contains a few dime-sized knots.
Structural Lumber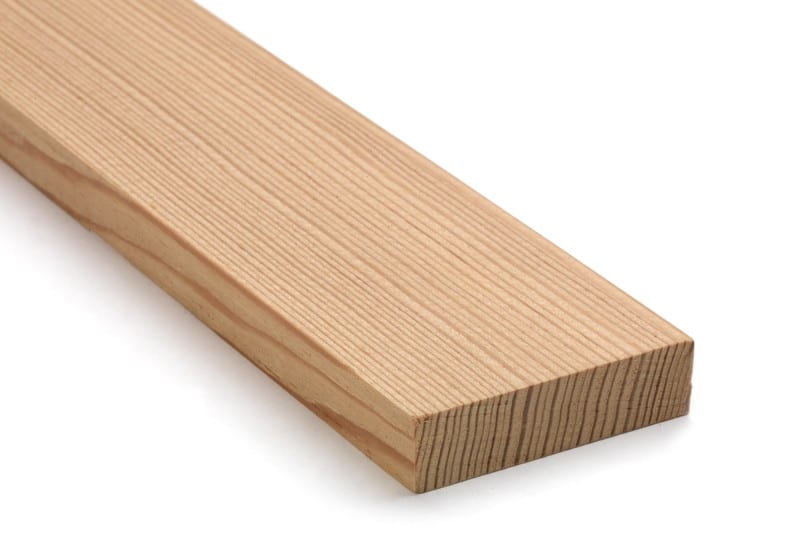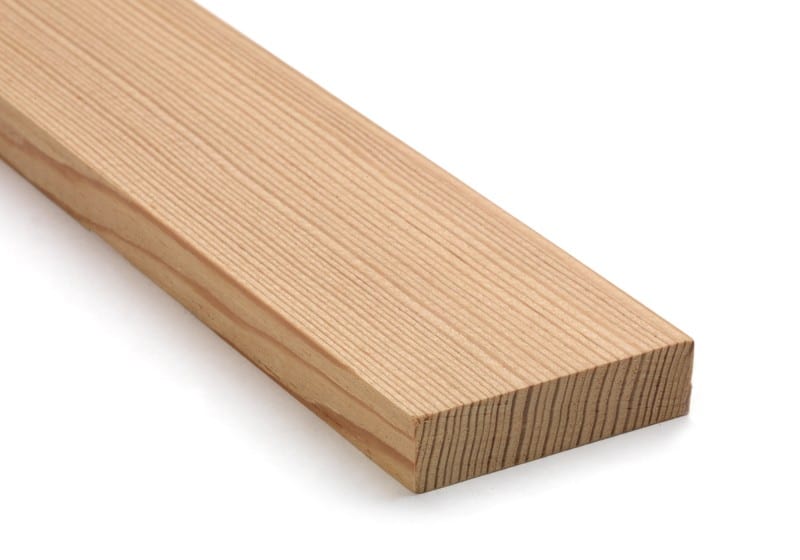 If you've ever bought a 2×4 or a 4×4, you've bought structural lumber. Structural lumber follows a standard dimension for thickness and width. In America the "two-bys" (2x4s, 2x6s, 2x8s, 2x10s) and the 4×4 are the most common structural lumber sizes (though we'll see in a bit that a 2×4 really isn't 2 inches thick and 4 inches wide). While the thickness and width is standard, the length is not. You can have a 2×4 that's six, eight, or even ten feet long. It's still a 2×4. The standard pre-cut sizes allows carpenters and house framers to buy lumber without having to do as much cutting when they get it to the construction site.
Because structural lumber is heavily used in construction, it's often machine stress graded so that builders know the bending stress of the board. It can be visually graded, too.
Structural lumber is classified into seven categories:
1. Light Framing. Lumber that's 2 to 4 inches thick, 4 inches wide. Graded as either Construction, Standard, or Utility. Here's what those designations mean:
Construction. Small, tight knots and knotholes permitted with the following guidelines:
| | | |
| --- | --- | --- |
| Nominal Width | Anywhere on Wide Face | Unsound or Loose Knots & Holes |
| 2″ | 3/4" | 5/8" |
| 3″ | 1-1/4" | 3/4" |
| 4″ | 1-1/2" | 1" |
Standard. Splits at end of board permitted as long as they're no longer than the width of the board. Tight knots and knotholes permitted with the following guidelines:
| | | |
| --- | --- | --- |
| Nominal Width | Anywhere on Wide Face | Unsound or Loose Knots & Holes |
| 2" | 1" | 3/4" |
| 3" | 1-1/2" | 1" |
| 4" | 2" | 1-1/4" |
Utility. Splits allowed that are equal to 1/6 the width of the piece. Knots are not restricted as to quality and are permitted in the following sizes:
| | | |
| --- | --- | --- |
| Nominal Width | Anywhere on Wide Face | Unsound or Loose Knot & Holes |
| 2" | 1-1/4" | 1" |
| 3" | 2" | 1-1/4" |
| 4" | 2-1/2" | 1-1/2" |
2. Structural Light Framing. Lumber that's 2 to 4 inches thick, 2 to 4 inches wide. Graded as Select Structural, 1, 2, or 3. Here's what those designations mean:
Select Structural. Pretty much clear of knots. The knots that do exist are small and tight. Strongest of the four grades.
No. 1. Small, tight knots up to 1-1/2" allowed. Loose knots can only be 1" wide and can only appear once every 3 feet.
No. 2. Well-spaced knots of any quality up to 2" wide. Can have knotholes that are 1-1/4" wide every 2 feet.
No. 3. Knots of any quality can be up to 2-1/2" wide. Knotholes allowed every 1-3/4" foot.
3. Studs. Lumber that's 2 to 4 inches thick, 2 to 4 inches wide. Graded as Stud.
4. Structural Joists and Planks. Lumber that's 2 to 4 inches thick, 6 inches and wider. Graded as Select Structural, 1, 2, or 3.
5. Beams and Stringers. Lumber that's 5 inches or thicker with a width more than 2 inches greater than the thickness. Graded as Select Structural, 1, or 2, with Select Structural being the strongest.
6. Posts and Timbers. Lumber that's 5 inches by 5 inches. Graded as Select Structural, 1, or 2.
7. Appearance Framing. Broad category of structural lumber that's at least 1 inch thick and 2 inches wide. Aesthetics govern the grading of appearance framing. The highest grades are clear or nearly clear of any knots or blemishes. Appearance framing lumber is used in paneling and siding.There are two primary grades of appearance framing: Finish and Select. Finish grade is higher quality than Select.
Finish grading is only available in lumber from Douglass Firs and Hem-Firs. The grades are Supreme, Choice, and Quality.
Select grading applies to all Western softwood species. The grades are A, B, C, and D:
A Select. No knots, splits, or other visible defects. Used for fine furniture, exposed cabinetry, trim, and flooring.
B Select. A few, small defects but nearly perfect. Used for exposed cabinetry, trim, and flooring.
C Select. Small tight knots. Can be used for shelving and some trim and flooring.
D Select. Numerous "pin" knots and other small blemishes.
Shop and Factory Lumber
This is lumber that's selected for "remanufacturing purposes and intended for non-structural applications." Doors, ladders, pencils, molding, and boxes are typically made from shop and factory lumber. The grading will vary depending on how it's going to be used. So shop lumber that's used for doors will have a different grading system than shop lumber used to make pencils. While each use has a different grading nomenclature, the grading is typically based on how much high-quality wood you can get from that piece of lumber for an intended use.
Moisture Content at Time of Manufacturing
In addition to grading the quality of the lumber, lumber grading associations also report the moisture content at the time the wood was turned into lumber ("surfaced"). This is important to know because as a piece of softwood lumber dries, it shrinks. That can change plans for how it's used on the job site.
S-GRN. Surfaced in green condition.
S-Dry. Surfaced dry. Moisture content was less than 19% after manufacture.
MC15/KD15. Moisture was 15% or less at time of manufacture.
KDHT. Kiln-dried and heat-treated. Dried to < 19% moisture content with core brought to 56 degrees C for 30 minutes. Heat-treating wood kills insects and fungi spores that can cause decay. Lumber that is shipped globally must be heat treated.
Pulling it All Together: The Lumber Stamp
Next time you're at the hardware store picking up some wood for your project, look for a stamp on the lumber that looks like this: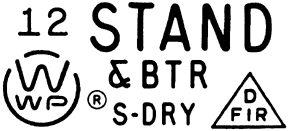 STAND & BTR means it's graded "Standard and Better" light framing. So at a minimum this piece of lumber is standard, but it could be Construction grade, too.
S-DRY means the lumber was surfaced dried.
The Triangle with D-FIR in it lets us know that this piece of lumber came from a Douglas fir.
That little stamp contains all the information that we just talked about above. So with just a glance you can know the type of tree the lumber came from, its classification, its grade, and its moisture content. Pretty cool, huh?
Working With Pressure-Treated Softwood Lumber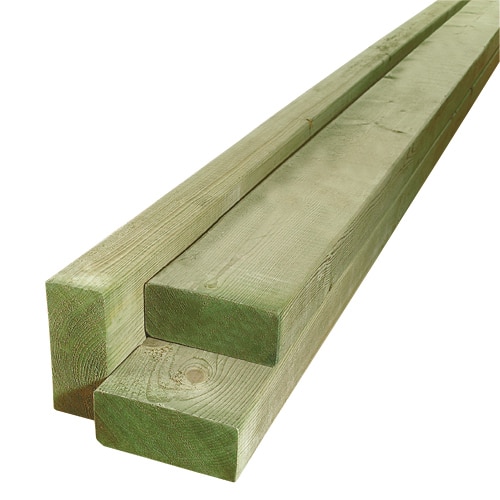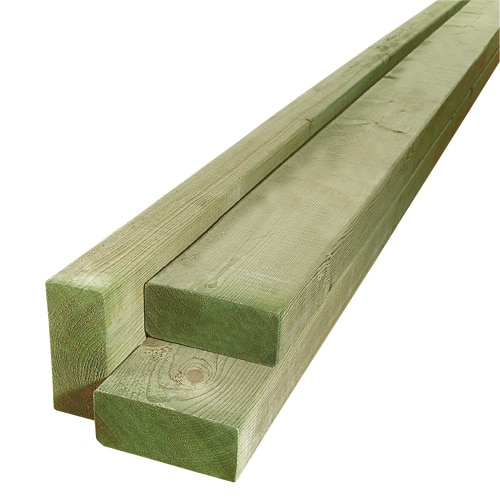 Because softwoods are susceptible to rotting from water and fungus, softwood lumber that will be exposed to the elements is often pressure treated with a chemical that preserves the wood. Things like decks, light posts, swing sets, mailbox posts, picnic tables, etc., are often made from pressure-treated lumber.
The pressure treating process is pretty simple. The wood that's to be treated is stacked into a sealed tank. All the air is vacuumed out, causing the wood's pores to open. A preservative chemical is pumped into a tank, and pressure is applied to force it deep into the wood's cells. After the treatment, the wood is removed and left to dry. When you're at the hardware store, you can tell lumber has been pressure treated by its green hue and slight dampness.
Many of the chemicals used in pressure treating lumber are classified as pesticides by the Environmental Protection Agency, so care should be taken when handling it. Never burn pressure-treated wood in your fireplace or campfire and don't use it for mulch or compost. And you should consider washing your hands after handling it to get rid of any testosterone-sapping xenoestrogens that may be left on your skin.
Hardwood Lumber
Hardwood Sizes
There aren't any standard widths for hardwood lumber like there are with structural softwood lumber, but there are standard thicknesses. Hardwood is cut into quarter-inch increments. Below is a chart of the standard thickness of hardwood lumber:
Rough Size
Nominal Size/Name
Actual Dimension (in)
(Inches)
(Fraction In)
("quarter")
S1S1)
S2S2)
1/2″
3/8″
5/16″
5/8″
1/2″
7/16
3/4″
5/8″
9/16″
1″
4/4
7/8″
13/16″
1 1/4″
5/4
1 1/8″
1 1/16″
1 1/2″
6/4
1 3/8″
1 5/16″
2″
8/4
1 13/16″
1 3/4″
3″
12/4
2 13/16″
2 3/4″
4″
16/4
3 13/16″
3 3/4″
Hardwood Lumber Classification and Grading
Hardwood lumber classification and grading is much simpler than softwood lumber. For hardwoods, appearance is the primary factor in grading. The National Hardwood Lumber Association governs the standard grading system of hardwoods in the United States.
There are four possible hardwood lumber grades. Grade is determined by the amount of clear surface area a particular board has on its poorest looking side (with hardwoods one side will look better than the other). A higher grade board is long and wide with a large percentage of its area defect-free. The clear lumber can be removed from the board with a few large cuts.
FAS (First and Second). This is the highest quality grade. An FAS board must be at least 6 inches wide, 8 to 16 feet long, and is 83.3% clear on its poorest looking side.
Select — No. 1 Common. Board that's at least 3 inches wide, 4 feet long, and is 66.6% clear of blemishes
Select — No. 2 Common. Board that's at least 3 inches wide, 4 feet long, and is 50% clear of blemishes.
Select — No. 3 Common. Board that's at least 3 inches wide, 4 feet long, and is 33.3% clear of blemishes.
Different hardwoods have different criteria you look for when giving the above grades. You'll want to check the National Hardwood Association's website for details.
Common Lumber Defects
Both softwood and hardwood lumber will have defects because of the way the tree it came from grew or from how it was machined during the milling process. While lumber defects can be worked with and incorporated into fine woodworking projects, defects in structural lumber should be kept to a minimum. Be on the lookout for the following common defects:
A 2×4 Isn't Really a 2×4: Understanding Lumber Sizing
The most common pieces of lumber that you'll use for projects around the house are "two-bys" and 4x4s. Again, those numbers refer to the thickness and the width of the board. So a 2×4 is a piece of lumber that's 2 inches thick and 4 inches wide.
Except, not really.
The 2×4 (and the other two-bys) uses what's called a "nominal" measurement. Mills typically cut a tree into lumber shortly after the tree has been felled, so there's a lot of moisture in that piece of wood. When the mill cuts a piece of lumber into a 2×4 it actually is 2 inches thick by 4 inches wide. But as the lumber dries during its travel to the lumberyard, it shrinks. By the time you buy that 2×4 it's actually about 1-1/2" x 3-1/2", give or take.
So take that into account next time you're building a project with and buying lumber.
Plywood and Paneling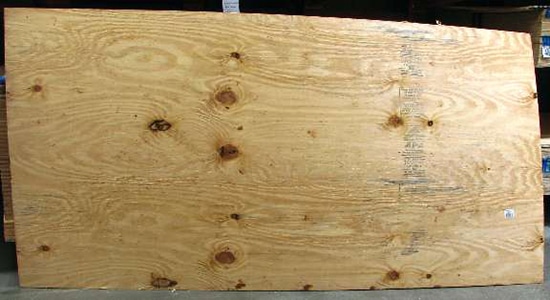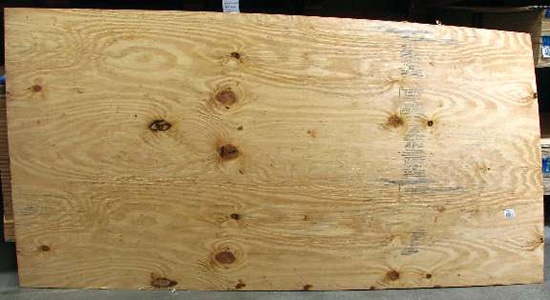 An article about lumber wouldn't be complete without discussing plywood. Plywood is heavily used in construction jobs like flooring, roofing, and siding. If you ever decide to make your own plyometrics box for your garage gym (coming soon on AoM!), you're going to use plywood.
The reason plywood is such a go-to material is that it's strong, lightweight, and rigid. Due to the way it's constructed, a single panel of plywood can span great distances without bending. Even if it does crack, it doesn't crack all the way through.
Plywood is made by layering thin pieces of wood veneer called "plies." Each layer is alternated 90 degrees from the layer beneath it and then glued together. This layered construction is what gives plywood its strength.
Because only one side of the plywood is seen whenever it's installed, only one side looks nice and smooth. This side is called the "face." The rough side is called the "back."
Plywood can be made from softwood, hardwood, or a combination of the two. Most of the plywood you're buying from the hardware store for projects around the house is made from softwood lumber.
Plywood Grades
There are a few plywood grading systems out there, but most of them follow an A-D classification with A being the best. Plywood is also classified as Exterior, Exposure 1, Exposure 2, and Interior. The type of plywood you choose will depend on economics, how much exposure to the elements the wood will get, and whether looks are important to you.
Exterior. Fully waterproof bond (glue) between the layers and designed for applications subject to permanent exposure to weather and moisture.
Exposure 1. Fully waterproof bond but not for permanent exposure to weather or moisture.
Exposure 2. Interior type with intermediate bond. Intended for protected construction applications where slight moisture exposure can be expected.
Interior. Interior applications only.
If you don't have a lot of money and you don't care if your plywood is baby smooth on the surface, go for a lower grade. It's just as strong as the nicer looking grades.
A. Smooth, paintable surface. Repairs to the veneer like replacing knots with patches can be made, but no more than 18. Used for projects like cabinets.
B. Solid surface. Minor splitting permitted.
C. Tight knots and knotholes allowed. Can also have discoloration and sanding defects on the surface as long as it doesn't impair strength.
D. Larger knots and knotholes permitted.
You'll often see plywood with two grades as in "A-C." This means that the face side is an A grade and the back side is a C grade.
In addition to the above two classifications, plywood is also rated as Sheathing, Stud I-Floor, and siding. This just specifies what a particular end use a piece of plywood was designed for. Most of the plywood you buy from the hardware store for projects around the house like a workbench will be classified as sheathing.
As with softwood lumber, plywood will have a stamp with all this information somewhere on the board. It looks like this: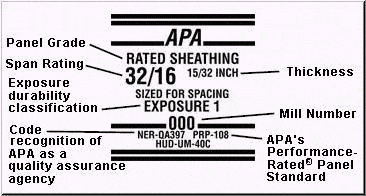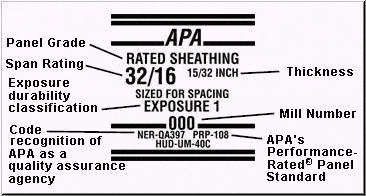 Well, there you go. Pretty much everything you'll ever want to know about lumber. Bookmark it so you can come back to it next time you need to go to the lumberyard to buy some wood. I hope you found this useful!
Happy hammering!
______________
Sources
Pocket Ref, 4th Edition
University of Missouri
Michigan Technological University
Western Wood Products Association
one of my friends importing huge quantity of eucalyptus logs and then peeling to face and core veneer ,selling to domestic markets .
Long grain and short grain both ,
Most of them are the standard thickness
If you want to buy eucalyptus lumber ,they all kiln dried to good uniform moisture content can make good furniture parts .
我的一个朋友进口了大量的桉树原木,然后去皮去面和芯板,销售到国内市场。
长纹和短纹,
它们中的大部分都是标准厚度
如果你想买桉树木材,他们都窑干到良好的一致的水分含量可以使良好的家具零件。
Lumber Defects
Lumber defects
   A defect is an irregularity in or on wood that reduces the strength, durability and usefulness of lumber. Not all defects take away from the appearance of wood like knots. Knots can add to the appearence of certain projects.
Common Wood Defects
Wood is far from a stable, consistent material. One of the biggest challenges of woodworking is learning to work within the constraints of a wood's properties. But before you can expect to work within these constraints you must understand them. It is for this reason we present you with the following article, Common Wood Defects.
 Question:
Listed below are common wood defects, using google or any search engine find images to match with each. Have you seen any of these defects in the past?
Wood
Defect

Features

Caused By

Effect

Solution

Blue Stain

Picture

A bluish gray discoloration on the woods surface. This feature is most common in woods like Holly, Pine, and Sycamore.
Mold that grows in warm and moist area, usually poorly ventilated.
Discoloration of wood.
Can be cut off, placed out of sight, or concealed with a darkstain.
Bow
A curve along the face of a board that usually runs from end to end.
Improper storage. Usually moisture evaporation from one side and not the other.
Stock is difficult to work with and cut.
Cut in to smaller pieced, even out on a jointer, or nail (screws are better) in place with bow bulging out.
Checks or SplitsPicture
Breaks at the end of a board that run along the grain. Checks and splits are usually restricted to the end of a board.
Rapid Drying.
Can effect the strength and appearance of the board.
Should be cut off or worked around.
Crook
Warping along the edge from one end to the other. This is most common in wood that was cut from the center of the tree near the pith.
Can be caused by improper drying and storage or the presence of reaction wood.
Can be difficult to work with.
The higher spots can be cut away on a table saw or jointer using a special jig.
CupPicture
Warping along the face of a board fromedge to edge. This defect is most common of plain-sawn lumber.
This defect can be caused when one board face dries at a faster rate than the other.
Stock can be difficult to work with. Trying to "force it flat" can cause cracking along the grain.
You can try allowing the board to dry at the same moisture content under pressure, rip it into smaller pieces on a table saw, or use a jointer to remove the high spots.
Dead or LooseKnotPicture
A dark, usually loose knot.
This is caused by a dead branch that was not fully integrated into the tree before it was cut down.
Can mar the appearance of the wood, fall out, become loose, or weaken stock.
Should be cut out, around, or glued in place and filled with a wood putty.
Gum, Sap, or PitchPicture
Accumulations of a resinous liquid on the surface or in pockets below the surface of wood.
Injury to the tree.
May cause difficulty when finishing.
Should either be cut off or scraped out and filled.
Machine Burn
Dark streaks along the face of a board.
Usually caused by planer blades that are dull or spun on a part of the board for too long.
Discoloration to the surface. Sometimes the burn can penetrate into the board.
Can be sanded off or cut down with a jointer. The depth of the board often determines the amount of work needed.
Ring Check
Breaks in the wood along the annual growth rings.
Improper drying or damage during transport.
Can effect strength or appearance.
Should be cut around, place out of sight, or glued down.
Tight KnotPicture
A know which is tightly integrated into the surrounding wood.
This was once a branch that was incorporated into the tree as its girthincreased.
Does not effect the lumber's strength.
May be removed for appearance purposes. Some lumber such as Knotty Pine, is highly prized for this feature.
Twist
Warping in lumber where the ends twist in opposite directions. (Like twisting a towel)
Growing conditions, uneven drying or the presence of reaction wood.
Can be difficult to work with.
Can be cut into shorter boards or the high spots can be removed on a jointer.
WormholesPicture
Small holes in the wood.
This is caused by insects boring through the wood.
Can be used to simulate old or wormy wood.
Cut around worm holes or uses as is for decorative purposes. Be sure the insects are dead.
Lumber Grade Rules
This chart summarizes the main requirements for the standard grades. For complete information, consult the appropriate section of the NHLA Rule Book.
FAS

FIF

SELECT

#1 COM

#2 & 2B

#3A COM

#3B COM

FAS LIMITS

Minimum Size Board

Same as FAS for species being graded

3″ x 4′

3″ x 4′

3″ x 4′

PITH= SM in inchesWane= 1/2 Length Knot= 1/3 SM Warp= Entire board must be flat enough to S2S to S.S.T. Splits: not to exceed 2 x SM or 12″ whichever is greater. Splits shall not diverge 1″ in 12″ First Lineal Foot Rule: Applies to both ends of Board, to contain not over 25% unsound wood.

Wane in FASIFACE: FAS transmission applies to better face.#1 Common Side: 1/3W or 1/2L Widest wane added

together: Length can be on both edges.

Minimum Size Cutting

4″ x 5′ 3″ x 7′

BETTER FACE TO GRADE FASPOOR FACE TO GRADE #1 COMMON

4″ x 2′ 3″ x 3′

3″ x 2′

3″ x 2′

Not less than 1 1/2″ wide containing 36 sq. inches

Wane in Selects: Pcs. 6″ & Wider FAS limitation applies to Better face.#1 Common side: 1/3W or 1/2L Widest wane added together. Length can be on both side. Pcs. 4″ & 5″ Wide 1/3W or 1/2L applies to both faces. Add widest wane together. Add total length of wane from both edges.

Basic Yield

SM x 10 83-1/3%

SM x 8 60-2/3%

SM x 6 50%

SM x 4 33-1/3%

SM x 3 25%

Formula to Determine Number of Cuts

SM ——– 4 (4 max.)

SM+1 ——– 3 (5 max.)

SM ——– 2 (7 max.)

Unlimited

Unlimited Sound Cuttings

SM Needed to Take Extra Cutting

6-15′ SM

3-10′ SM

2-7′ SM

Extra Yield Needed for Extra Cutting

SM x 11 91-2/3%

SM x 9 75%

SM x 8 66-2/3%

Special Yields

97% Rule -2 cuts full width any length; Pcs. 6″ & wider with 6-12″ SM SM x 11.64 for Yield

97% Rule On Better Face

2 + 3 SM to be 100% clear or SM x 11 in one cutting on Better Face. 97% Rule

1′ SM-100% 2′ SM SMx 9

1′ SM SMx 8 2A Com- Clear Face Cuttings 2B Com- Sound Cuttings

2A Com on Better Face and reverse side of cuttings sound; will also qualify for 3A Com